Over 1500 quality clay and ceramic products for hobbyists, teachers, and potters.
CALENDER OF EVENTS
LOCAL AND REGIONAL
November
First Fridays in Augusta, Georgia
Come to downtown Augusta on the first Friday of every month from 5-10 p.m. for an evening of gallery and studio tours, demonstrations and entertainment. What began as a gallery walk by Artist's Row almost 10 years ago has turned into a free public "celebration" for much of downtown Augusta.
Artisans Holiday Mart at The Little Red Barn Gallery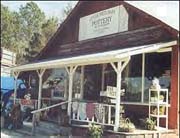 November Dates: Saturday & Sunday , 25th & 26th
December Dates: Saturday & Sunday , 2nd & 3rd
Booth space available for 20.00 per day and includes coffee, donuts, and lunch. Call Liz or Paul Ringus for more details at 803-541-7900.
Note: If your a FPC customer and have an event you want listed, please email us information to info@fortpottery.com

Copyright 2003 Fort Pottery Company. All rights reserved.